The annual Santa Cycle Rampage event took place this weekend with many riders taking a festive lap around the capitol square to raise money for the Wisconsin BikeFed.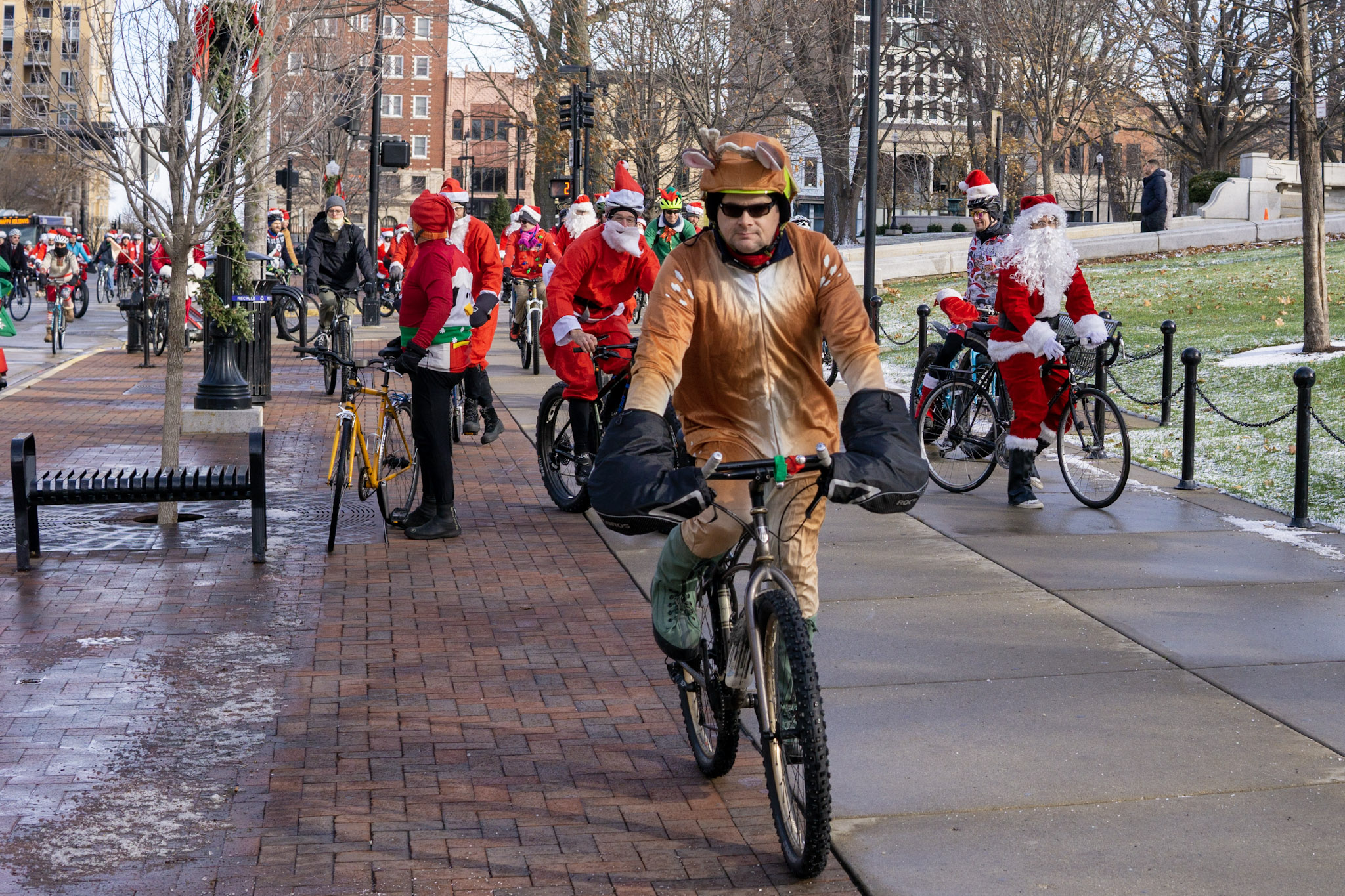 Winter Bike Tires
I hope you were able to enjoy the last breath of fall this weekend as temperatures hovered just above freezing. Freezing temperatures have have made the roads and paths a little icy. For those who are unacquainted with studded winter tires, I recommend considering investing in a pair to keep your winter rides enjoyable (and upright). Winter tires have hardened metal spikes/studs and extra grippy rubber which maintain "reasonable" traction on icy surfaces. A novice winter cyclist might mistakenly believe a knobby mountain bike tire would be perfect for winter riding and they would be correct for snowy conditions, however winter tire metal studs are absolutely necessary to safely navigate icy surfaces. You can stop by any of your local bike stores to pickup a pair which generally run about $80 each and will last 5+ seasons. You won't regret it.
Thursday – Olin Holiday Lights Ride
Black Saddle, Slow Roll and Revolution Cycles are hosting a casual Lake Monona ride to see the holiday lights including a stop at the Olin park light show. Event officially starts at 6:30 Thursday departing from Slow Roll Cycles. Cyclists are welcome to show up or RSVP through the event on Facebook.
Old Middleton Road to get buffered bike lanes
The Transportation Commission approved the installation of buffered bike lanes on Old Middleton Road, all the way from Eau Claire to Capitol Ave. The general travel lanes will be narrowed to 10 ft, and both sides of the road will have 7-foot bike lanes with a 3-foot buffer. Given the traffic volumes on Old Middleton Road (and a recent spade of crashes), buffered bike lanes are the recommended design to make this road safe and comfortable to ride on. Construction will start next spring.
Cap City Trail, Jackson St, and Ohio Ave improvements
On the other side of the isthmus, a street reconstruction project will include improvements to the Capital City Trail near Atwood Avenue. The crossings of the trail with Jackson Street and Ohio Ave are not only bumpy, but there also are frequent conflicts with people in cars crossing the path. As part of a larger project, improvements are coming: Jackson and Ohio will both be turned into one-way streets and narrowed significantly.
Where the streets cross the Cap City Trail, the trail will be kept at grade and there will be stop signs for cars. To still allow people on bikes to access Atwood Avenue in both directions, an 8-foot widened sidewalk will be built along Jackson and Ohio.

Finally, the project includes space for a new BCycle station at the corner of the Cap City and Ohio!
As always, you can find an overview of all bike events on our Community Bike Calendar. Email us at info@madisonbikes.org to add your events. And if you value our newsletter and other work, consider donating to Madison Bikes. For construction updates, check out the city's Bike Madison page.